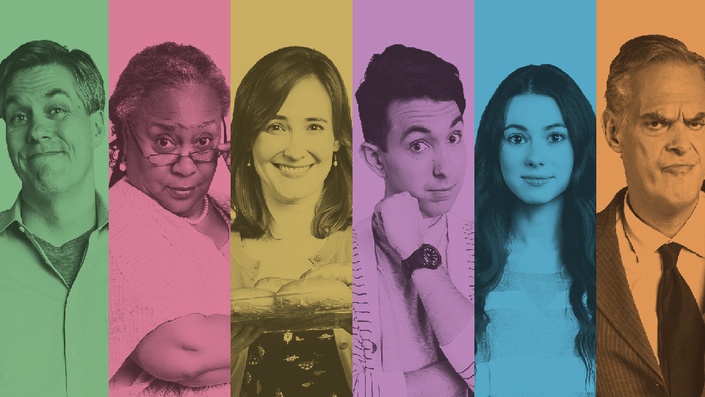 The Committee Teaching Series (Free)
This teaching series is designed to examine the struggles congregations face as they look toward a preferred future.
Watch Promo
Course Enrollment is Now Closed

Chuck Knows Church: The Committee is a 16-session video teaching series designed to examine the struggles congregations face as they look toward a preferred future. Using real-world topics, The Committee is sure to open discussion in your congregation.
The series follows Park Grove Community Church, a fictional urban U.S. congregation, as it is faced with a difficult decision: should it close? Things are so bad that a retired pastor didn't show up to help them decide the congregation's future – so it's up to the last remaining members to discover it for themselves.
Although some of the characters and situations are simplified to accommodate the format, they may feel familiar. Your congregation may not be facing closure, may have a wonderful pastor, and be a vital and growing church. However, all congregations face the issues addressed in The Committee at some point.
Click here to learn more about Chuck Knows Church and The Committee.
Course Enrollment is Now Closed
Class Outline
01 | Introduction & The Committee: Pilot
Park Grove Community Church has lost its way, lost its pastor, and is closing its doors . . . unless it reinvents itself, despite itself, with the help of Chuck. Will it become a vital congregation again?
02 | Hospitality
The Committee members struggle with understanding the true meaning of hospitality. Does your church have a heart for hospitality?
03 | Reflecting the Community
Does your church membership look like the surrounding community? If not, why not?
04 | Our Purpose
Does your church understand its purpose in the community? Does it understand why it exists? Chuck helps the members of Park Grove Community Church to understand their "why."
05 | Evangelism
What is your church's relationship with the "e-word?" Do people run when they hear it? Chuck helps the members of Park Grove Community Church learn how not to be scared of evangelism.
06 | Understanding the Who
Who lives in the community surrounding your church? Do you know them? What does your church offer them? Chuck uses Dr. Seuss to help Park Grove Community Church understand the "who" around them.
07 | Discipleship System
How does your congregation intentionally make disciples? Do you have a system in place? Chuck acts as the referee with the committee as they struggle to understand what a discipleship system is at Park Grove.
08 | Innovation
Churches that innovate tend to thrive. But how does this work? See Chuck and The Committee deal with the lights going out in the church while understanding the meaning of innovation. Is your congregation innovative?
09 | Small Groups
Small groups in any size congregation tend to create deeper relationships and a stronger commitment to the Christian faith. In this episode, Chuck decides to help Park Grove Community Church become healthier by inviting The Committee to discuss the importance of small groups.
10 | Children in Church
Is your congregation offering children an experience that will surround them with a community of love? Chuck and The Committee ask these important questions as they laugh and learn along the way.
11 | Stewardship
Does your congregation think stewardship is merely an annual campaign? Chuck and The Committee struggle with Mr. Riley to understand the full meaning of stewardship.
12 | Committees that Work
Does your congregation have committees that have forgotten their purpose? Are they stuck and rarely accomplish anything? Chuck may be feeling what you have felt at one time or another.
13 | Embracing a Legacy
It's Christmas time at The Committee! Older adults in power know the gospel is about, in part, denying yourself and giving yourself to Christ. And those in power must be willing to share power based on that gospel message. Watch this episode of The Committee for some hints how older and younger adults can work together to build up the body of Christ.
14 | Younger Leaders
As The Committee members play the Jenga game, they discuss that older leaders have to make mental and physical space for younger leaders. And Chuck calls them to action! Watch this episode of The Committee for some hints how your church can thrive rather than just survive. Hint: it has something to do with Christ.
15 | The Vote
Where is your church in its lifecycle? Where do you see signs of rebirth? What is your big idea?
16 | Resurrection
The final episode of The Committee series.